COVID-19 UPDATE AS OF 05/11/20
Following the latest Government announcements, the Workshop, Parts department, Used Car Sales and Fuel forecourt will remain open (check details and the opening times)
WORKSHOP
If you need a Service, MOT or any other mechanical repair please call 01263 513181 for an appointment.
CAR SALES
Under the latest rules our Car Showroom is closed, however Remote Car Sales are allowed. A 'Reserve/Click and Collect' service will be available so if you are interested in any of our used vehicles please get in touch by phone 01263 513181 or email enquiries@eastcoastmotorcompany.co.uk
You will be able to view all our used cars safely outside and can reserve any car for £250, then remote collection can be arranged following all the guidelines.
SORRY NO DEMONSTRATIONS / ROAD TESTS ARE ALLOWED UNTIL THE END OF LOCKDOWN
FUEL
We will still carry out attended service on the fuel forecourt, please remain in your car while we are serving you. Accounts and Contactless Card payments only.
All our Services will be by appointment only. Tel 01263 513181.
Monday to Friday 8.30 to 16.30
Saturday CLOSED
Please wear a face mask at all times, and do not turn up if you are displaying any Covid-19 symptoms, however minor they may be.
Keep Safe Everyone
The Directors and Staff at the East Coast Motor Company.
FORD SERVICE
Ford Service ensures you can get the most out of your maintenance needs to maximise convenience.
That's why we've made sure every step of your servicing journey can be fitted around your time, from our quick and easy Online Service Booking tool, to Collection and Delivery and an easier way to pay online or over the phone. Our range of services are designed to put you first, whilst ensuring your vehicle is kept in the very best condition.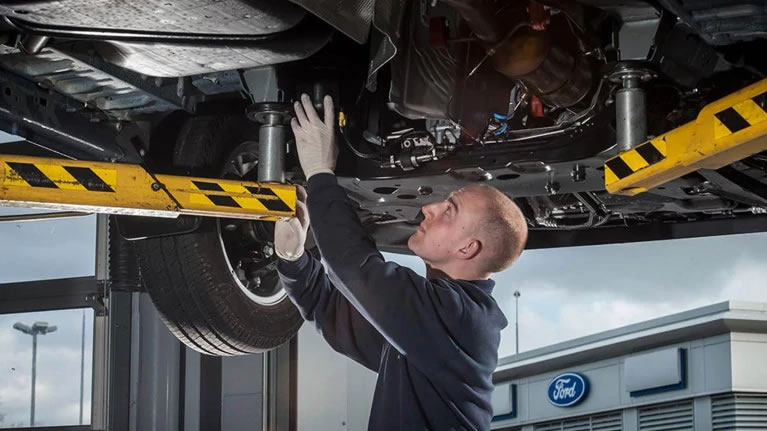 Ford Scheduled Service
Having your car or commercial vehicle serviced in line with our scheduled service recommendations ensures the details are recorded in your vehicle Service Portfolio or in the Ford Digital Service Record system, minimising the risks of major repair expenses and enhancing its resale value.
Our Ford scheduled services are specifically tailored to your vehicle type, engine and transmission based on mileage and age, carried out by our Ford-trained technicians using genuine Ford Parts.
Ford Essential Service
One Service, one price. Our Ford Essential Service is a comprehensive service designed specifically for older Ford cars and commercial vehicles regardless of model, carried out by our Ford-trained technicians using Ford Motorcraft parts.
Our Ford Essential Service provides the essential maintenance and checks, including oil and filter replacement, and provides an alternative servicing option outside the Ford service schedule recommendations for only £169 RRP.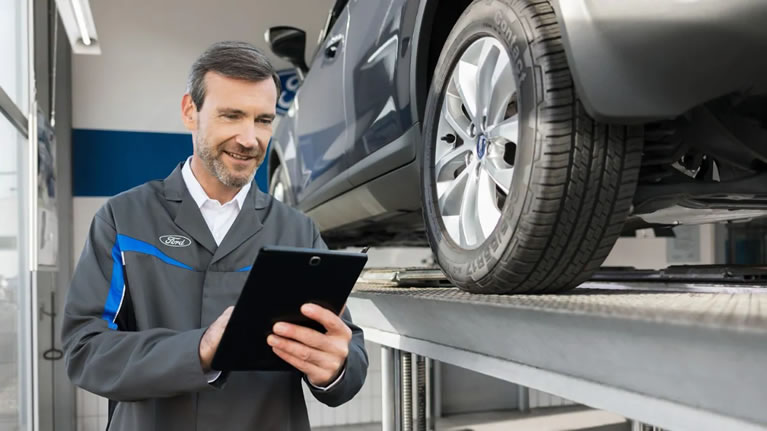 MOT
Conveniently book your MOT test
If your car is over three years old it must undergo an annual Ministry of Transport (MOT) Test to ensure it meets legally set road safety and environmental standards. Book with us, for convenience and the knowledge that your work is being carried out to exact standards by Ford-trained technicians.
The benefits of choosing a Ford Dealer
Keeping you informed and getting you back on the road:
With Ford, you can be sure these repairs will be carried out to exacting standards by Ford trained technicians, using Ford quality parts.
If any repair work is required, we will always let you know.
We provide exact and competitive pricing, along with a detailed written explanation of the invoice and work performed. This is a reassuring record of your car's history for any future buyer.
If we can't repair your car on the same day as the MOT, we'll offer you a prompt alternative date/time.